Back To Our Services
We are one of the most respected garage door service and repair companies in the area. If your door malfunctions, it can be very costly. This is especially true if you choose an inexperienced company or repairman to do the work. Let our skilled and experienced technicians assist you. Our employees are vetted and trained to repair rails, cabling, motors, and even garage door remote controls. Genie, Sears, Stanley, and Liftmaster are only some of the many garage door makes that we service. If you are in the market for a new door, let our personnel help you find the perfect match for your home.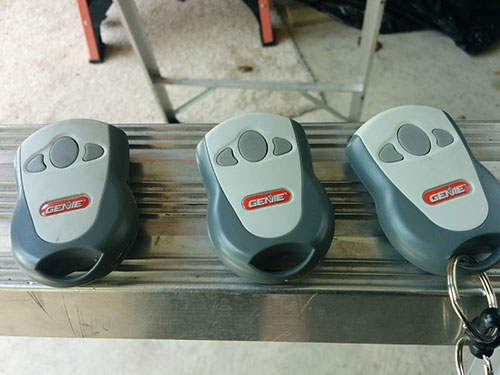 We are experts on garage doors, garage door openers, and garage door remote opener. We do repairs, replacements, and installations. Our knowledgeable staff can advise you when purchasing new products and help with maintenance to protect your investment. One of the best conveniences ever invented was the garage door remote clicker Chicago residents routinely use to open their garage doors.
Security can be a real issue in the big city, so residents will want to think about higher security models of Chicago garage door remote clicker devices.
Some of the best secure garage door remote clickers are:
Chicago Lift master Security
The security lift master in Chicago uses rolling code technology. This is safer than traditional single code technology, because instead of sending out the same code every time the door is opened, the Lift master Security changes the code each time. This prevents criminals from tracing and copying the signal to gain access to your garage and home.
Chicago Genie Intellicode
The Genie Intellicode in Chicago garages also works on rolling code technology. Our professionals at Automatic Garage Door Chicago can help you program your Genie Intellicode remote if you are having difficulties.
Chicago Multi Code
The multi Code in Chicago protects your security with a different method from rolling code technology remotes. Multi Code technology hides the signal by using several frequencies at the same time. Multiple codes on various frequencies confuse devices intended to trace the signal.
Automatic Garage Door Chicago is your number one source for Chicago garage door remote repair and garage door remote replacement in Chicago. We listen to what your need and help you find what you want within your budget, rather than trying to sell you a certain product. Our knowledgeable and friendly staff makes the third largest city in the US feel like a home town.
Back To Our Services